December '22 Snowy Recap
If you felt like it was a snowy December here in Denver, you are not alone, and you are not wrong. Denver had below above normal snowfall for many areas. While Denver only had three meaningful snow events, most of the snow fell between December 28th and December 29th, with areas receiving five to ten inches from this event alone. Denver International Airport officially reported 13' of snow in December which is 6.4" above the normal of 6.6". A strong arctic cold front moved thru on the 21st and resulted in a one-hour temperature drop of 37 degrees at Denver International Airport, which is now the largest 1-hour temperature drop in Denver history. Brrrrrrr!
Snow Accumulation Totals This Season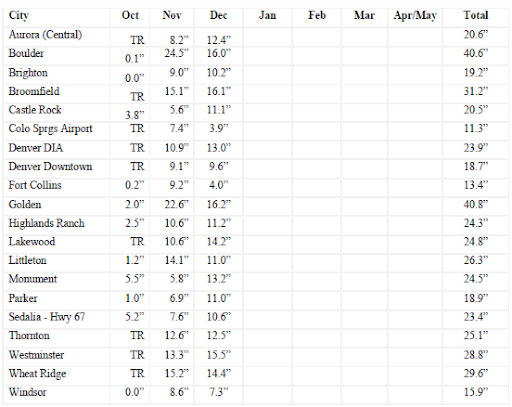 The January Forecast – What to Expect for Snowfall
January is typically slightly "warmer" in Denver than in December and typically, snowfall in January is dry and powdery with low water content. This, however, is not always the case. Snow type is determined by where the storm originates. If the storm is Pacific in origin, the snow can be wet and heavy like spring storms. On the contrary, if the storm originates in Canada, the snow will likely be all powder. For the month of January, Denver typically sees an average of 6.4" of snowfall.
Need a Rescue You From Your Current Provider?
Snowology Can Help!
All of this snow can help separate the top snow management providers from the rest of the pack. If you found yourself, and your properties, constantly buried in snow, don't wait until the end of the season to start finding a new provider. Snowology maintains route flexibility throughout the winter season and can always add new sites and help dig you out!
If you prefer to stick it out for the rest of the season, it's never too early to start planning ahead for next year and get signed up with the top snow management company in town. Call Snowology now so see how we can help you out, either today or next winter!
Remember, finding a qualified snow removal contractor is the name of the game.