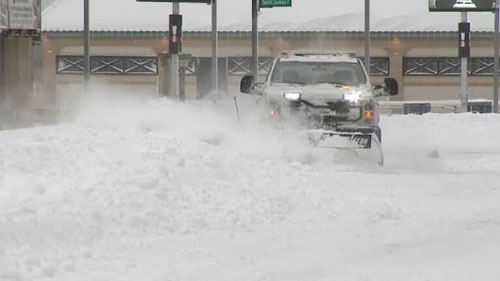 Preparing for Colorado's Unpredictable Winter Weather
Weather forecasters in Denver, we love them… and… we can strongly dislike them! However, weather forecasters probably feel the same way about Colorado's incredibly finicky winter weather. With sunny warm skys one moment, it can quickly turn to cold, snowy blizzard conditions. 
It has happened before, and it will happen again. You go to sleep feeling confident that you will wake up to the four or six inches of snowfall that has been forecasted for the Denver area, but instead you wake up to a standing eight to twelve inches of snow! With the winds blowing sideways and you'11 swear it's a three-foot drift blocking you in. 
It is at this very moment you start to think…
Is my snow contractor prepared for this? 
Will my commercial office be accessible and operational today?
Will I receive my commerce on time today?
Will I be dealing with poor snow removal service or snow placement on my lot?
If these thoughts are crossing your mind, maybe it is time to consider a snow management company that has planned and prepared for these very situations in Colorado like Snowology.  
Confident Commercial Snow Clearing with Snowology
Winter storms can change on a dime and Snowology is always ready. Born and experienced in Colorado's unpredictable winters, Snowology stays ahead of their competitors.
Here are the top five aspects of our snow removal business that keep us not only ahead of competitors but the storm as well, ensuring safe and operational commercial business sites. 
Enhanced and Clear Storm Communication Protocols

Receiving not only pre and post storm information but accurate storm updates.

Client Approved Site Maps

Snowology works with our clients to ensure that our site maps are complete with snow pile locations and concise clearing instructions including urgent or top priority locations.

Reliable Equipment

Our equipment, including our plows, skids, pushers and chemicals, are the latest in not only effective technology but efficient technology in the snow removal business.

Access to Additional Equipment

When four to six inches turns to eight to twelve, we have that extra equipment and chemical available for immediate use. When your site and the weather require more, we have it!

Ability to Haul Snow Off Site

Whether your site is not designed to hold snow piles or simply can not hold any additional piles, we can relocate or haul it off. With access to dump trailers, dump trucks and semi-trucks, no pile, or mountain of snow is too large. Relocation services, being a key component regarding solutions to limited space, is becoming an essential service to provide to our clients here at Snowology.
Don't Wait for a Snow Emergency
Never wake up with questions about your snow removal services ability to plan for instant changes in winter weather. Wake up with confidence knowing you just have to get out of your house and the rest has been taken care of!