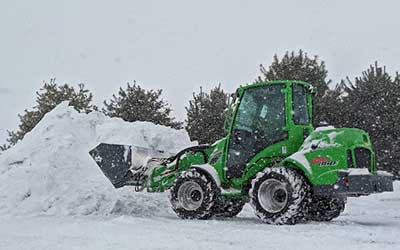 The end of summer in the Denver area is a special time of year. The weather is just starting to change, with cooler temperatures giving us a bit of a breather from what was yet another hot, dry Colorado summer. The leaves will start to change soon, bathing the metro area in a sea of red, orange, and yellow as we ease our way into another cold Colorado winter.
Now that summer is over, it's time to start preparing your commercial property for winter. With the first snow of the year just a few weeks away (we hope!), early fall is the perfect time to start planning your snow removal strategies for the impending snow season. Putting together a snow management plan beforehand is vital in order to keep your property safe during the winter.
In this article, we'll discuss some of the key benefits of developing your snow removal plan before the first snow of the season:
5 Benefits of Pre-Planning for Commercial Snow Removal
1) Better Visibility Ensures Better Planning
Perhaps the biggest benefit of early snow removal planning is being able to get "the big picture" and see everything without a blanket of snow and ice on the property. Take the entire property into account – parking lots, curbs, walkways, building entrances, landscape features, stairs, accessibility ramps, low spots in the terrain – everything needs to be accounted for in order to develop an effective snow removal plan.
2) Better Planning Means That Contractors Are Better Equipped
Creating an effective snow removal plan allows contractors to know exactly what vehicles and equipment they need to bring during service. Trucks with plows are best suited for large parking lots, while smaller vehicles with plows or snow sweepers are effective at clearing walkways and building entrances. Dump trucks may also need to be allocated for hauling snow off the property. Certain businesses may also need pet-friendly deicers or other special considerations.
3) Being Well-Equipped Leads to More Efficient Service
Knowing what vehicles and equipment a contractor needs also allows them to plot out the most efficient "routes" on the property. Knowing how large the parking lot is, where the curbs are, and if there are any parking space blocks or other obstructions that may be hidden under a few inches of snow can drastically cut down on the number of passes needed, saving time and fuel costs.
Likewise, contractors will know where snow can be safely piled and stored, or whether they need to bring a dump truck to load up all the snow and remove it from the property. Pre-planning also cuts down on the risk of damage to the property or snow removal equipment, which can lead to significant downtime and costly repairs.
4) Efficient Service Reduces the Risk of Lost Revenue
Ensuring the most time-efficient service possible is essential to keeping properties open during winter weather, which in turn reduces the risk of lost revenue due to closure or fewer customers. If the property isn't accessible to employees to open the store or for customers to safely come and go, you run the risk of losing valuable customers to your competitors.
5) Effective Snow Removal = Less Liability and Headache for You
All of the above benefits roll into one overarching point: having a snow removal plan laid out before winter weather means that contractors will be able to quickly and effectively clear your property, keeping people safe. Winter accidents and injuries can be devastating for property owners and businesses, especially when they could have been avoided with proper planning and service. This is why it's so crucial to develop a snow removal plan well before winter weather is on the horizon.
Do You Need Professional Winter Property Planning for Your Denver Commercial Property?
Snowology Brings a New Approach to the Snow Removal Industry
Built on decades of experience, Snowology was created to provide customers with efficient and effective snow management services. By incorporating The Science of Snow Removal into everything we do, we're able to develop a snow management plan for your commercial property that emphasizes efficiency, controls risk, and reduces liability exposure.
By putting the customer first and prioritizing communication, trust, and accountability, we work to educate our customers and reduce the knowledge gap between property owners and their snow contractors. Our goal is to make sure that customers are confident that they hired the right snow removal contractor for the job.
To see what Snowology can do for your Denver area commercial property, give us a call at (720) 912-9456 or get in touch with us online to get started.