As the seasons change and we slip into cooler fall temperatures, the holiday season is quickly approaching. Many businesses are starting to put up their Halloween decorations, with Thanksgiving and the December holiday season not far behind.
While everyone should express their creativity and holiday spirit with festive decorations, they create unique challenges for commercial landscapers and snow removal contractors.
Dealing with ice and snow can be tricky while trying to prevent damaging or knocking over decorations and undoing the time and effort spent transforming your property for the holidays.
In this article, we'll explore the challenges that holiday decorations present for snow and ice removal, and how to overcome them: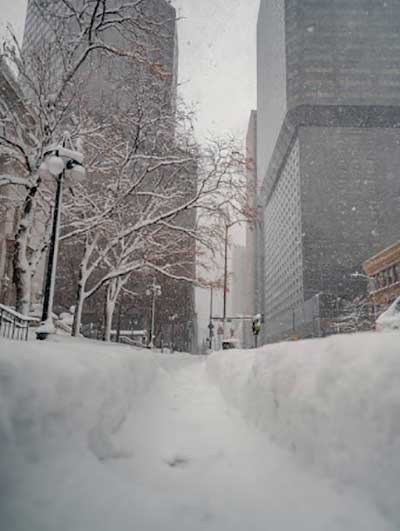 ---
5 Challenges of Commercial Snow Removal During the Holidays
Safety Concerns & Planning

Holiday decorations are an excellent way to attract the attention of passersby to your business, but they can also pose significant safety risks if not thought out carefully. Cables, lights, and smaller decorations that might be hidden under larger snow accumulations can all lead to increased risks of slip and fall accidents. They can also be damaged by snow blowers, shovels, and other equipment when clearing the property.

It's important to plan out your decorations in ways that minimize risks as much as possible, and also be aware of how everything is laid when clearing snow and ice.

Snow Load on Decorations

A nice blanket of snow can put the final touch on a winter holiday landscape, but the extra weight can affect the structural integrity of certain decorations. Likewise, lights and other decorations that hang from trees—especially overhanging branches—can increase the chance of bent or broken branches when combined with snow, ice, or heavy winds. Smart design choices and construction techniques, as well as timely snow removal, will keep your property safe and ensure that your decorations last for years to come.

Icy Pathways

Clearing snow and ice from walkways is challenging, and holiday decorations can add extra difficulties to this essential task. Lights and other decorations that line walkways may make it more difficult to put down de-icers or use a snowblower effectively. Larger decorations may make it more difficult to remove snow around them as well, leading to trickles of runoff that create icy patches overnight. Precision and efficiency as necessary to ensure that paths remain clear without damaging any decorations.

Deicing Chemicals and Decorations

It's common practice to use de-icers during winter, but these harsh chemicals can damage decorations–and your property–if used improperly. These chemicals can easily cause discoloration, corrosion, and rust to your precious decorations, so it's important to protect them as best as possible. Some precautions that you can take include:

Move decorations temporarily when applying de-icers
Cover decorations while using a snow blower or other equipment to prevent them from being splashed by deicer brine
Find eco-friendly alternatives

Decorative Lighting

Lights are perhaps the most commonly used decorations during the holiday seasons. They certainly enhance the holiday ambiance, creating a sense of warmth and color during cold winter nights. Making note of where lights are used–and where their electrical cables run–is essential to prevent them from being damaged during snow removal services. This can be especially hazardous in the case of electrical cables that run along the ground and may come into contact with water from melted snow and ice.
Don't Let Snow and Ice Scare Off Your Holiday Spirit
Built on decades of experience, Snowology was created to provide customers with efficient and effective commercial snow and ice management services. By incorporating The Science of Snow Removal into everything we do, we're able to develop a snow management plan for your commercial property that emphasizes efficiency, controls risk, and reduces liability exposure.
By putting the customer first and prioritizing communication, trust, and accountability, we work to educate our customers and reduce the knowledge gap between property owners and their snow contractors. Our goal is to make sure that our customers are confident that they hired the right snow removal contractor for the job.
To see what Snowology can do for your Denver area commercial property, give us a call at (720) 912-9456 or get in touch with us online to get started.