Ice Accumulation & Winter Services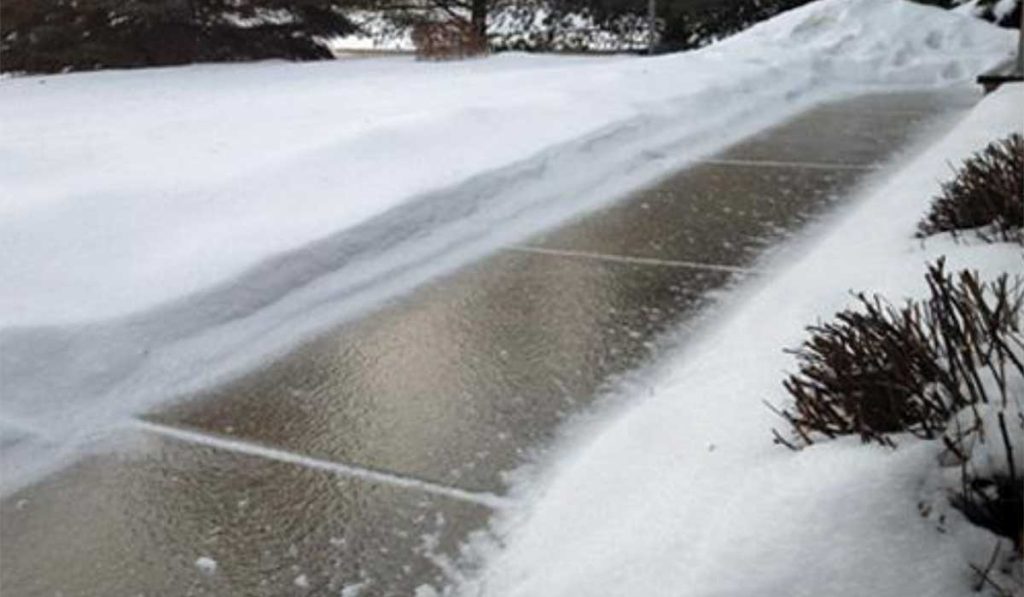 You've done your Commercial Snow Removal Company research…
You've had your site meetings…
You've customized AND signed off on your brand-new snow removal contract… 
BUT, did you skip over that "additional services" section? Specifically, the additional service option of adding Ice Watch? 
If you did, we understand, sometimes "additional services" can come off a bit "additional car warranty protection" … However, it is an important service to consider when trying to fully protect your business, employees and patrons. Here is why. 
What is Refreeze? What about Freeze-up?
Refreeze refers to water from either runoff or snowmelt turns to ice, typically as a result of air and ground temperatures falling below freezing. Freeze-up typically refers to areas of melted snow and/or slush freezing into a solid as temperatures drop, by which, becoming difficult to remove. Both refreeze and freeze-up can present hazards to pedestrians and automobiles even after the storm itself is long gone.
What is Black Ice?
Black ice occurs when liquid water on ground surfaces that are below freezing turns into a clear transparent sheet or patch of ice regardless of the air temperature. The source of the water can indeed come from both snow melt water and/or runoff water. This can result in a thin, hard-to-see sheet of ice across the impacted surface. In some instances, black ice can occur as a result of dense fog at subfreezing temperatures, especially if the ground is moist or damp from previous precipitation.
Pavement Temperature
Pavement temperatures that are below freezing act as a foundation for liquids to freeze up and turn to ice. We are referencing both asphalt and concrete when using the term "pavement."
What Can Snowology Do to Help?
Snowology offers that "additional service," Ice Watch, as an add on to any Commercial Snow Removal Contract. 
Snowology will visit your property after hours and patrol for ice, and if needed, will apply ice mitigation chemicals following the end of any snow event that reaches the plow trigger depth per the contract. The number of nights will be determined by the Owner of said property. 
Yes, Ice Watch is an additional service that bears additional cost. However, to ensure the safety of your business, employees and patrons, this additional cost will be far minimal to the potential dangerous effects of an ice slip and fall, or structural damage that could have ultimately been avoided.