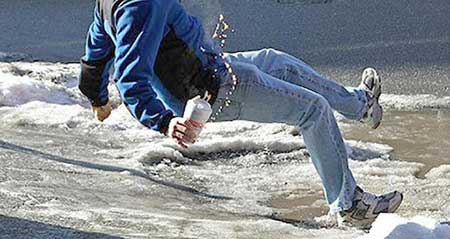 Increased Injury Rates During Winter
Slips, trips and falls are an unfortunate aspect to accompany the already harsh and cruel winter months. In fact, on average, 1 MILLION Americans are injured annually as the result of falling on ice or snow. 80% of all slips, trips and falls can be attributed to the presence of snow and ice.
Colorado's Winter Risks
Meteorological winter is fixed at 90 days for winter in a non-leap year. Out of those 90 days, research has shown that here in Colorado, January 9th is the number one day for worker injuries, and most of those injuries are due to slips, trips, and falls on ice and snow. On average, 198 individuals are injured on this day, with the vast majority being in the professional/clerical and healthcare fields. Keeping a clear and safe property through winter is extremely important. You don't want unsafe conditions contributing to employee or patron falls.
Colorado's Winter Accidents – Ranked
ANYONE on your property could be at risk during winter months. Having a winter plan for storms and a vendor to execute can help avoid the realities of the injury data. When looking at the most common accident during winter months are slips, trips and falls. That's not the only snow and ice related accident that patrons could be at risk for.
Here is how those winter accidents/injuries rank in order:
Slips, Trips, and Falls
Strains
Struck (Meaning by an Object)
Strikes (Meaning Makes Contact with an Object)
Cuts
What can YOU do to help reduce your personal risk?
Wear shoes with good traction.
Dress Warm – Keep those muscles relaxed.
Use additional caution when getting out of your vehicle. Plant both feet and steady your balance.
Take Extra Time – Don't Take Shortcuts
Pay Attention. Stay aware of the surfaces ahead of you.
What can SNOWOLOGY do to help YOUR BUSINESS reduce risk?
Snow Plowing – Cleaner Lots
Deicing – Fights Air Temperature, Ground Temperature, Moisture Content and Snowfall Rates
Hauling – Ensures Structural Integrity
Snow Shoveling – Sidewalks, sidewalks, sidewalks…
Emergency Response
Risk Management
Protect Yourself & Your Customers this Winter
Your business must keep moving, and Snowology will do just that, WE KEEP BUSINESS MOVING!
Ensure this winter your business is prepared with a dedicated snowologist who will develop methodologies to keep your property clear and safe, even against Colorado's roughest storms.